January 2023 has certainly kicked off to a positive start. We have seen our sustainability champions spreading awareness, attending events, networking and meeting with sustainability-focused businesses. Our team continues to impact the hotels in which they consult with their energy, water, and waste reduction strategies.
Events in January 2023
World Future Energy Summit, Panel Moderator
16 to 18 January 2023 saw the team from Sustainability Kiosk out and about at the World Future Energy Summit held in Abu Dhabi. The three-day event had the group collaborating with like-minded individuals and brands. Our Founder & Chief Sustainability Advisor, Radhika Arapally, was honoured to be moderating an engaging discussion on "𝗜𝗻𝘁𝗿𝗼𝗱𝘂𝗰𝗶𝗻𝗴 𝘀𝘁𝗿𝘂𝗰𝘁𝘂𝗿𝗲 𝘁𝗼 𝗿𝗲𝗰𝘆𝗰𝗹𝗶𝗻𝗴 𝗮𝗽𝗽𝗿𝗼𝗮𝗰𝗵𝗲𝘀 𝘁𝗵𝗿𝗼𝘂𝗴𝗵 𝘁𝗲𝗰𝗵 𝗮𝗻𝗱 𝗮𝗽𝗽𝘀" as part of the ecoWASTE forum.
During the discussions, the panel emphasised the importance of tackling sustainability issues in the food service industry. Of note was the impact and contribution of supply chain innovation on waste, greenhouse gas emissions and more.
Did you know that UAE per capita waste is 68% higher than global waste producers and that 40% of plastic produced in the UAE is single-use?
Highlighting that education and awareness are still vital to achieving a reduction.
Minor Hotel Group General Manager Meet, Speaker
In mid-January, Radhika also spoke to the General Managers' of the Minor Hotel Group during their Middle East annual conference. Throughout the session, Radhika highlighted the impact that Sustainability Kiosk has made at several properties. Radhika shared improved diversion statistics, a case study of waste diversion from 6% to 62% and several innovative solutions to inspire hotels to implement efficiencies in their waste, water, and energy reduction journeys.
Impact
We continued to make an impact with all of our clients.
The First Collection, recently released an engaging article regarding their sustainability initiatives, "The First Group Hotels to introduce eco-friendly supplies eliminating more than 400,000 plastic waste containers". This is a testament to staying the course, keeping focused, making decisions that impact waste, and having reduction as a critical focus in everything you do.
The Kiosk & the Kettle
Remember to catch up with what's been happening at The Kiosk & The Kettle.
Recently, we highlighted the Webinar Series Sustainability, Sustainable Finance & ESG Reporting for Hospitality. In this series, we broaden our horizons and explore the connection between ESG Reporting and Sustainability in hospitality.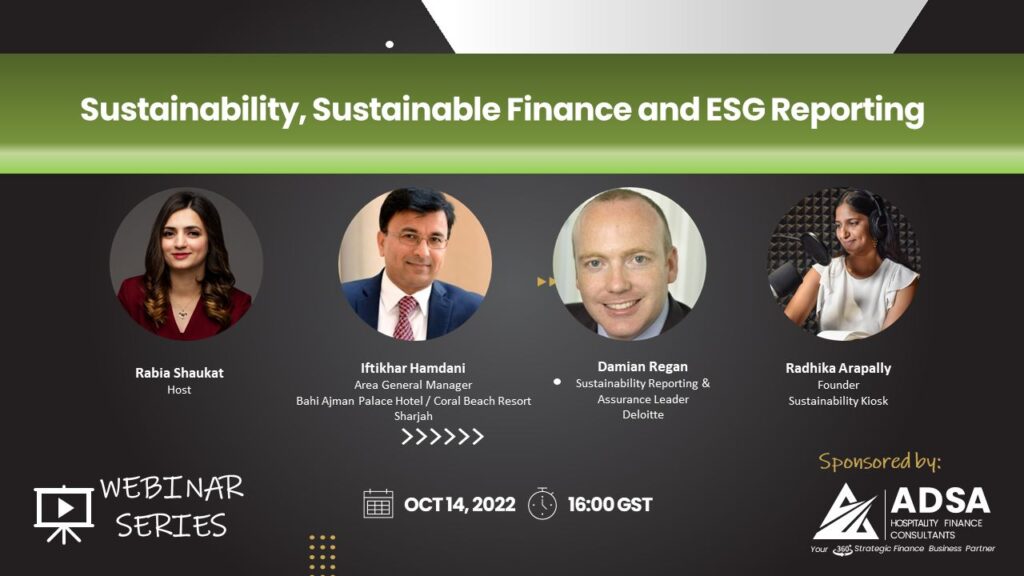 Sustainability Stories Podcast
Join us for our latest podcast, How Do You Start a Green Team at a Hotel? explained by Dr. Aurora Dawn Benton Founder and Chief Change Agent at Astrapto.
Astrapto sheds light on sustainability, offering courses, coaching, and consulting, advancing sustainability in the hospitality, events, travel, and service industries.
In this episode, we discuss the need for green certification and sustainability officers within organizations and the steps to benchmarking in your hotel. This podcast is a must-listen for sustainability consultants and hoteliers looking to embark on the journey.
Interested in Connecting with us?
Contact us on info@sustainabilitykiosk.com
Be sure to visit us at Sustainability Kiosk, our marketplace that connects you with practical solutions and brands for sustainability in your business.
Browse our knowledge base podcasts and blogs for tips, saving you time and money while balancing your contributions to the planet.