The PLEDGE™ on Food Waste Certification to reduce food waste by 40pct, save costs and stand out from the competition.
About The PLEDGE™
The PLEDGE™ on Food Waste is a third-party certification and global movement for food service leaders striving to address the critical issue of food waste, A holistic methodology; The PLEDGE™ can be applied and scaled to a diverse range of food service businesses, including hotels, restaurants, and canteens.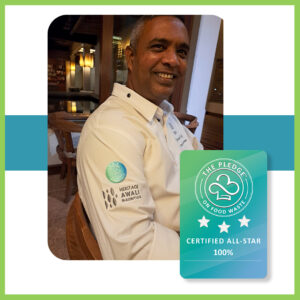 ---
The Global Issue with Food Waste:
With 1/3 of the food produced GLOBALLY being lost to food waste. Reducing food waste is critical in creating a Zero Hunger world when working towards SDG 2 (End Hunger), and SDG 12 (Ensure Sustainable Consumption and Production Patterns). Food waste also waste's a third of the resources that go into food production, such as water, energy, manpower and more.
Why take The PLEDGE™ on Food Waste?
Designed by Food and Beverage sustainability experts and academics, The PLEDGE™ presents a holistic methodology for F&B businesses to design, promote, and maintain best practices to prevent food waste. Addressing the United Nations' Sustainable Development Goals 2, 12, 13, and 17, The PLEDGE™ encourages community and industry leaders to make a commitment to a triple bottom line approach for their business where economic, social, and environmental impact are integral to daily operations.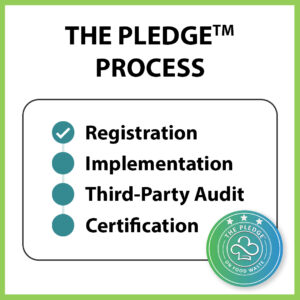 The PLEDGE™ is an opportunity for leaders across the hospitality industry to drive positive impact in their organizations, across their networks, and differentiate themselves from their competition.
The certification offers practical methods to cut food waste and reduce operational expenses.
Going above and beyond the existing standards of food service excellence, The PLEDGE™ encourages hotels, restaurants, and canteens to generate positive environmental impact from reduced waste, as well as benefits for their local communities by raising awareness on the issue of food waste and embracing options to donate food surpluses to people in need.
Why do we need this certification?
Now, more than ever, consumers are demanding more sustainable choices. Beyond monitoring and preventing food waste, The PLEDGE™ offers recognition for your food service business as a leader in sustainable hospitality. It also engages your employees and customers in food waste prevention and empowers them to make responsible choices with food, whether at work or while enjoying a meal.
Benchmarking is another key feature to The PLEDGE™ that encourages food service organizations to measure their performance and metrics against sister outlets or outlets similar in scope. It moves beyond an individual organization to promote healthy competition and a transformation for the hospitality industry, where sustainability becomes inseparable from food service.
---
What you can do!
Take The PLEDGE™ !
Hotels and restaurants in the middle east, contact us at Sustainability Kiosk and get started with the certification program. We are the only certified facilitators in the region and are here as a guide and cheerleader through the whole process.
Commercial Benefits
Reduce food waste by up to 40%
Payback on investment is 4-6 months
Access to marketing and communications toolbox to engage networks on the topic of food waste
Attract new customers
Global recognition and differentiation from the competition.
---
Recent Pledger Update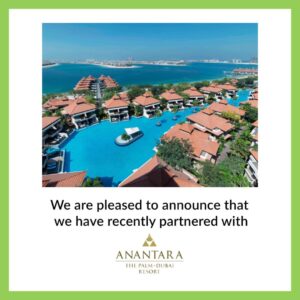 ---
INTERESTED IN BEING FEATURED ON OUR SUPPLIER CONNECT?
Contact us! Be sure to visit us at Sustainability Kiosk, our marketplace that connects you with practical solutions and brands for sustainability in your business. Browse our knowledge base podcasts and blogs for tips, saving you time and money while balancing your contributions to the planet.