Thinking of implementing Sustainability initiatives in your hotel and don't know where to start?
Introducing the Hotel Sustainability Basics Tool Kit 
The Hotel Sustainability Basics Toolkit is a comprehensive resource designed to assist hotels in implementing sustainable practices and reducing their environmental impact. 
"The Basics" are the globally recognised basic sustainability indicators for hotels. Developed by the industry for the industry, they represent the 12 actions that are fundamental to hotel sustainability.  Designed to offer a starting point for all stakeholders, particularly those who are embarking on their sustainability journey. They also help raise awareness of the minimum level of sustainability expected across the global hotel industry.  
The criteria have been developed under the auspices of WTTC and through a working group of 11 hotel companies, with the support of the Sustainable Hospitality Alliance. 
As an open-source resource, the Basics are available to hotel stakeholders, at company and property level, around the world. They have been deliberately designed to align with existing frameworks and certifications, such as the Sustainable Hospitality Alliance's Pathway to Positive Hospitality, the Global Sustainable Tourism Council's (GSTC) hotel criteria, the UNESCO/Expedia Pledge, Travalyst, Booking.com, Google, LQA Sustainability Standards, Forbes Travel Guide Sustainability Standards and the Sustainable Development Goals 
By starting with the Basics, a hotel can move forward using any of these frameworks in order to further improve its sustainability performance.  
The "Basic's" are intended to form the first step in a sustainability journey and can then be expanded on to follow more ambitious pathways as set out by, for example, 'Pathway to Positive Hospitality' or the Global Sustainable Tourism Criteria. 
 Focus Areas include.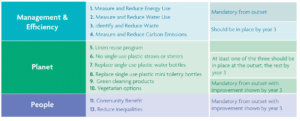 Source: WTTC Hotel Sustainability Basics 
 We highly recommend you start your journey with the Hotel Sustainability Basics Tool Kit.